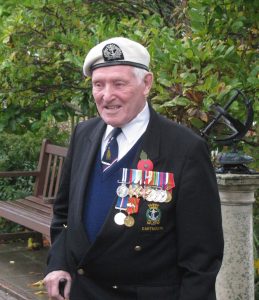 We are entering a new era, no longer just veterans of WW2 as the majority seem to believe, here at RNA Dartmouth everyone is welcome, especially those still serving.
Dartmouth Branch is as progressive as it is proud of its place in local history alongside the famous college where men and women have been trained to be the finest sailors in the fleet
Please come on in, we meet every last Thursday of the month (except August and December) 20.00 The Conservative Club Victoria Road Dartmouth. contact secretary@rnadartmouth.org
Ron our Chairman will be pleased to greet you and why not sign up while you are there.
Pictured one of our previous long serving members Sidney Thompson sadly crossed the bar